What Are the Best Windows for Bathrooms?
Selecting the right windows for your home can be a difficult task, especially when you're looking for new windows for your bathroom. Not only do you want privacy in this type of room, but you also want to decrease the high humidity levels that come about from showers and baths. Having at least one window in your bathroom is essential for proper ventilation. But with the many different types of windows out there, what are the best windows for bathrooms? In this blog we'll go over several different types of windows that work well for bathrooms.
Casement Windows
Casement windows are an excellent window choice for bathrooms. These crank windows work very similar to doors. They hinge to one side and open outward with the help of a crank. They have vertical openings which are perfect for both ventilation and the entry of natural light. Many homeowners prefer casement windows for their bathroom because they're simple to operate and feature a compressional seal that creates an airtight seal when closed and locked.
Awning Windows
Awning windows are very much like casement windows except for the fact that these windows hinge at the top and open on the bottom. These windows are an excellent choice for bathrooms as they can be opened under any weather conditions. When opened, the glass pane will create a small roof over the opening. This will prevent rain and debris from entering the bathroom. When paired with obscured glass, these windows will conceal the view inside, even if the window is partially open.
Sliding Windows
Horizontal sliding windows are a popular window choice thanks to their simple operation. One moveable pane slides back and forth over a fixed pane of glass. While this window may be a common choice for bedrooms and living rooms, it also works great for the bathroom. One of the main reasons why this window choice is so appealing is that it's one of the most price-friendly options out there. It offers decent energy efficiency and excellent light and ventilation. With that said, if you're planning on installing a sliding window in your bathroom, you will most definitely want it with obscure glass.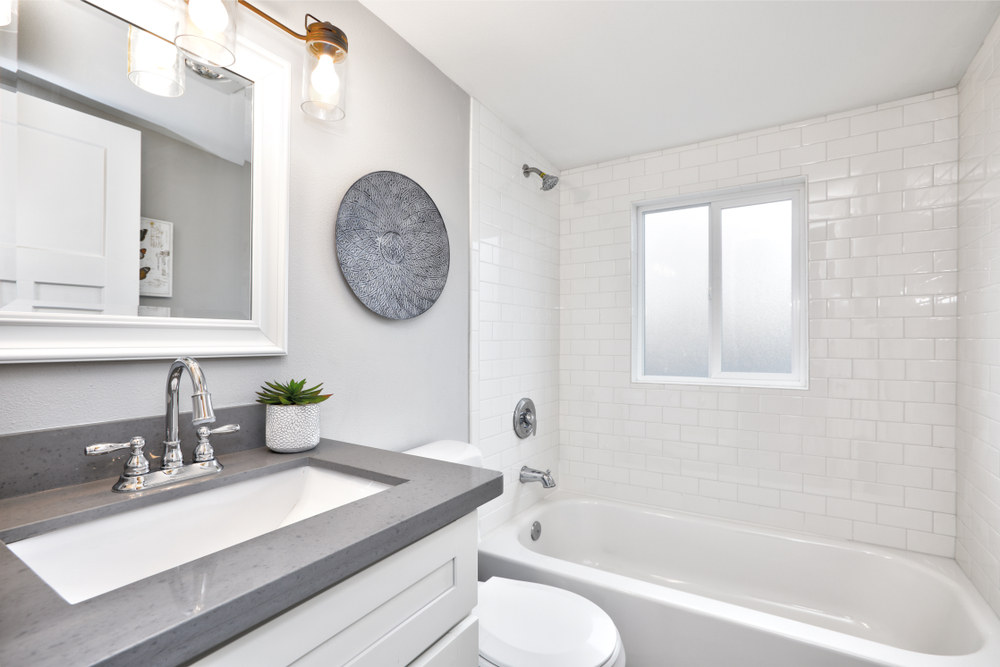 Skylight Windows
Skylight windows are different from the rest of the window options as they go on the ceiling rather than a wall. This makes them an excellent choice for homes with bathrooms that don't have access to an exterior wall on their perimeter. Also, this window choice is really appealing! Many modern homes feature skylights above the sink or shower. They offer a great way to get more natural light without taking up valuable storage space. While many skylights do not offer ventilation, you will need to add another window or an exhaust fan to eliminate shower humidity.
Install Bathroom Windows with Bill Morris Contracting
Windows are a necessary element all bathroom needs. Besides providing proper ventilation to your bathroom space, they bring in natural light and enhance the overall look of it. Whether ventilation, privacy, or aesthetics is your top priority, there's a window that can fulfill your needs. We hope this list of bathroom window types helps you decide on the perfect window for your bathroom. If you're ready to get started with your window installation project, give Bill Morris Contracting a call at (805) 302-9575, or click here for a quote!